Prof. George Magoha Biography
His full names are George Albert Omore Magoha. Prof. George Magoha was born in Kisumu County on 2nd July 1952. Due to his asthmatic condition, Magoha was moved to Nairobi by his brother, John Obare, and his wife Agatha Christine at a tender age.
Family
Professor Magoha is married to Dr. Barbara Odudu a gynecologist from Nigeria. Professor Magoha has a son called Michael Augustus Magoha.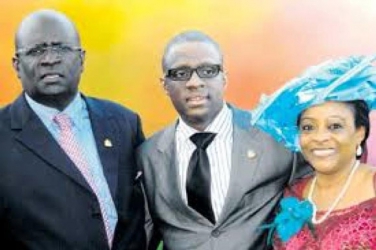 Early life and education
Prof. Magoha after moving to Nairobi joined Dr. David Livingstone Primary School, in Nairobi. For his O-Level education, he attended Starehe Boys' Centre. 
After that, he joined Strathmore School, for his A-Level education, where he graduated with a High School Diploma. Due to his excellent performance, he was awarded a scholarship to study human medicine at the University of Lagos, in Nigeria.
Medical Training
Magoha's studies at the University of Lagos made him practice at the Lagos University Teaching Hospital, the University College Hospital, Ibadan, in Nigeria.
He later joined the Royal College of Surgeons in Ireland where he trained as a urologist, and the Royal Postgraduate Medical School, Hammersmith Hospital in London, United Kingdom.  As a trained urologist he was a Fellow of the Royal College of Surgeons in Ireland.
Career
Magoha's first surgery career was developed at the Lagos University Teaching Hospital. He then became a Senior Resident and Clinical Lecturer in Surgery and served as a lecturer in the same hospital and as a Consultant Surgeon in various leading hospitals in Lagos, Nigeria.
In 1988 he joined the University of Nairobi as a Urological Surgery and rose to become a full Professor of Surgery in 2000.
In 1999 he was the chairperson of the Academic Department of Surgery, Dean of the School of Medicine, and Principal of the College of Health Sciences.
From 2005 he served as a Vice Chancellor in charge of Administration and Finance to Vice-Chancellor. For over 10 years and made sure that no strikes or riots at the university. He kept order in both lecturers and students.
Chairman Kenya National Examination Council
President Uhuru Kenyatta 2016 appointed him as the Chairman of the Kenya National Examination Council due to his record as a no-nonsense education administrator.
Cabinet Secretary for Education
Prof. Magoha was later 2019 nominated as the Cabinet Secretary for Education in the Kenyan Cabinet and was sworn in on 26th March 2019.
From being Cs for Education, he joined Maseno University as a professor of Surgery at the School of Medicine on 17th January 2023 in Kisumu County. Sadly, he was due to his new role where he was to give back to the community.
Professional Member Bodies
He was a member of many professional bodies in Urology and Surgery . Those bodies are like the British Association of Urological Surgeons (BAUS) and Société Internationale d'Urologie (SIU)
As of May 2017, he was the chairman of the Kenya Medical Practitioners and Dentists Board.
Researches
He actively was involved in the following research; male erectile dysfunction, prostate, testicular and penile cancers, circumcision, and HIV/AIDs.
Books
Magoha was the author of a book, Tower of Transformational Leadership, published by Kenway Publications in 2017. 
Death
On 24th January 2023, Magoha died following a suspected cardiac arrest at the Nairobi Hospital at the age of 71.