Raila Odinga Back to Drawing Board
When it comes to Raila Odinga, has been a Great Political Figure in Kenya since the 1980s. His political journey ever since has seen him fail to get the presidency seat but in all get passes of partnership from most people.
Raila after losing on August 9, 2022, Elections has not given up on the loss for he has always been the people's choice. He has therein called upon all his supporters to stand out and fight for their rights.
The Political Giant
Most leaders worldwide describe Raila Odinga the Azimio La Umoja One Kenya Coalition Party Leader as a riddle of Kenyan Politics.
The reason behind his being called a riddle of Kenyan Politics is that he always dusts himself when he falls and gets back to his feet.
His ODM leadership abilities have seen him sail through politics and Odinga has become a man of reason. The second swearing-in of former president Uhuru Kenyatta gave every Kenyan the belief that Raila had sunk and was never to show up in the political battles again.
Shockingly, He held up a mocking rally where he was sworn in as the people's president in Uhuru Park by Miguna Miguna. This move saw Miguna Miguna being arrested and later deported because it was a treason move.
2018 March Handshake
After all this dramatic swearing-in at Uhuru Park, Raila was given a handshake by Uhuru in March 2018 at Harambee House in Nairobi.
He had formerly had the same with Deceased Former Presidents Daniel Moi and Mwai Kibaki. With Uhurus handshake, Raila was free to hold campaigns to push the Constitution Amendments. It is in this process that Raila pathed to 'Azimio la Umoja' on 17 August in Nakuru. His former NASA friends were not for the move but he stretched his muscles and found a new team for the general elections.
IEBC Whistleblowers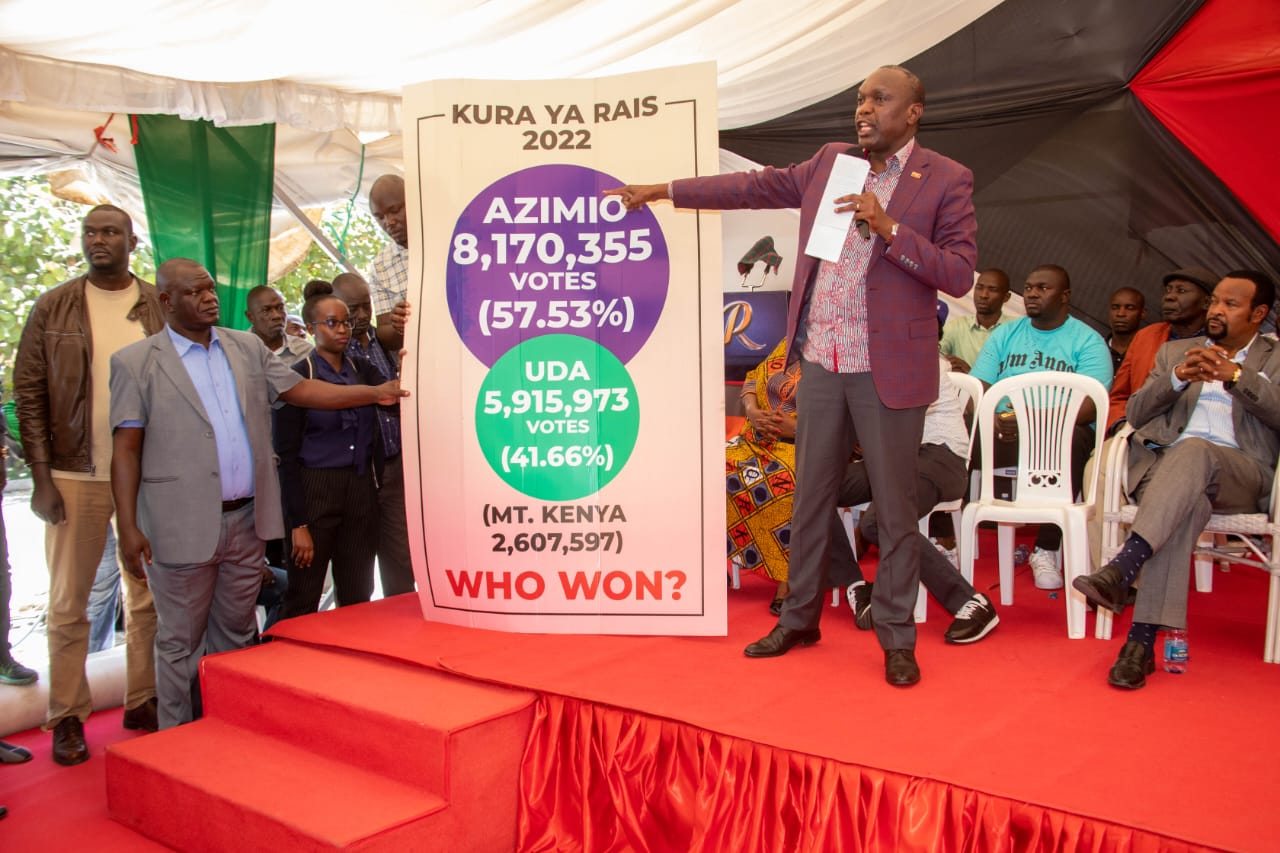 The former Ndawagwa MP Jeremiah Kioni came up with details that showed that Raila won the August 9th, 2022 Elections.
According to Kioni, a whistleblower within the IEBC shared intriguing evidence of how the electoral agency manipulated votes. According to the whistleblower, Raila won with 8,170,355 votes (57.53%) and William Ruto got 5,915,973 votes (41.66%).
Raila's Message to International Community
After his search, Raila claims that the Independent Electoral and Boundaries Commission (IEBC) servers that were allegedly used to rig him out were in Venezuela and the Netherlands.
Raila has hence given caution to the international community to keep off Kenya's politics for his fight for his win is still on.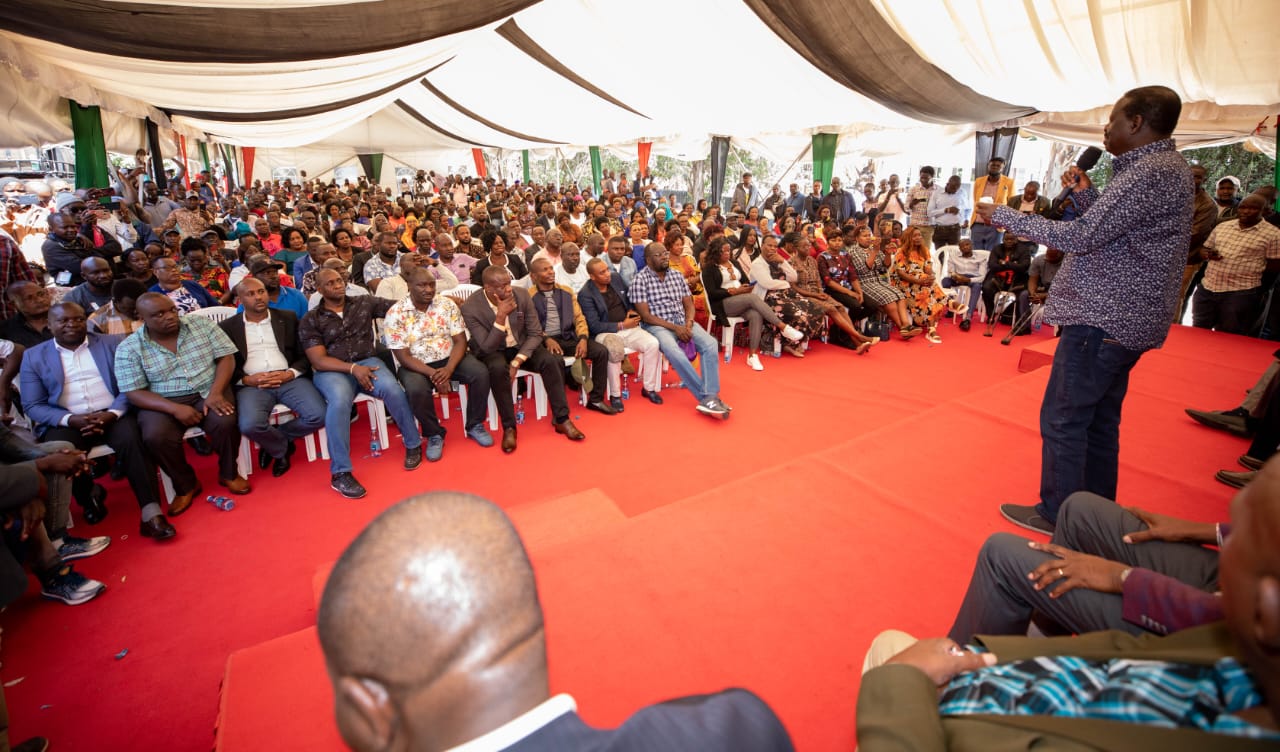 Raila held a meeting with top Azimio leadership from Nairobi county on Wednesday, January 25. This was two days after his much-anticipated rally at Kamukunji Grounds. "Exit poll shows we won the elections with over 56%," Raila said amid loud applause from his legion of supporters.
Raila said that the international community should let Kenyans elect the leaders that they want. He said that Kenyans are being led by imposed leaders by the corrupt electoral commission.
The National Assembly minority leader Opiyo Wandayi and the Ugunja MP gave an alert to the Kenya Kwanza that the protests they fear are on the way.
Dakar Summit
Even in Dakar Summit they know that President William Ruto rigged out
Raila Odinga. Yes, Nabii must fix this or otherwise he will have rough times ahead. It's only Kenya Kwanza,Martha Koome and Chebukati that validates him

Raphael Tuju Makau mutua #JKLive University of Eldoret pic.twitter.com/ptHDwn4uok

— The Government Critic ?? (@magwaz3) January 26, 2023
During the Dakar Summit President William Ruto was lectured by a francophone leader that he should go back to his country and fix peace. This comes after the cry by Raila that Ruto stoles his votes. What a shame to our country Kenya.
Jacaranda Rally Takes Way
Sina haja na Handshake, Tukutane Jacaranda siku ya jumapili! pic.twitter.com/64GDuCik7s

— Raila Odinga (@RailaOdinga) January 26, 2023
Raila has taken to his Twitter handle and made it clear that he's not in for another handshake.
Raila has urged his supporters to stand their grounds and meet on Sunday, January 29 at the Jacaranda grounds in Nairobi's Eastlands area.
Dennis Rail's spokesman has appealed to Kenyans to show up in large numbers
#Tukutane Jacaranda #Nohandshakes