Top Best Places For Shopping In Qatar
Shopping in Qatar is a way of life. The moment you land in the country, you are welcomed by a soothing view of duty-free shops at the Qatar airport . If you're a seasoned traveler reading this, you know what I'm talking about. So below is a list of some of the top shopping spots in Qatar you can't miss on your holidays.
1) Souq Waqif – An Ancient Market In The Heart Of Doha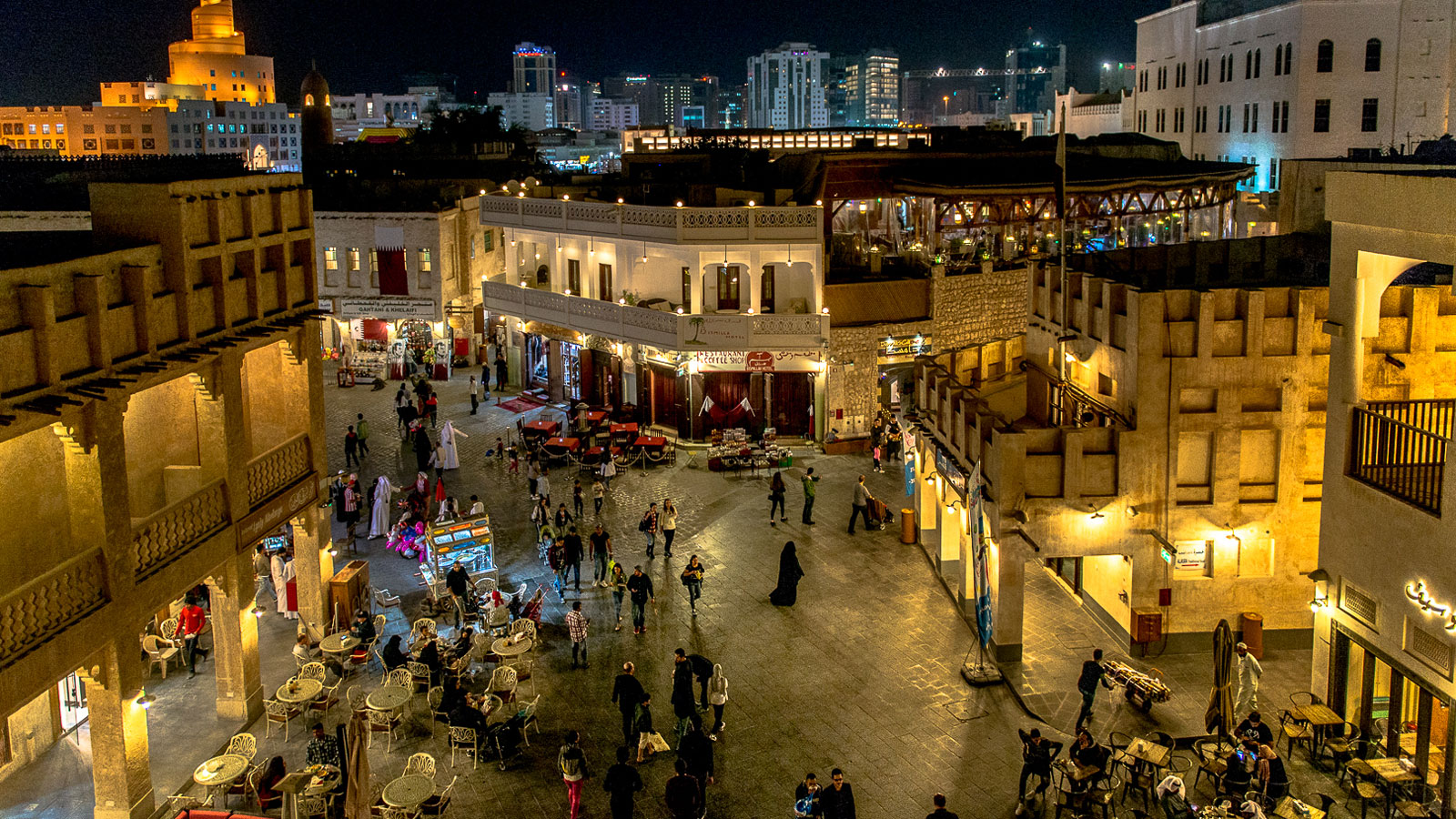 Now if you visit Doha and the weather favors you, then it is a must to pay a visit to Souq Waqif as well. The traditional Qatari market and one of the country's oldest, Souq Waqif is home to many muds-rendered traditional shops and Qatari buildings where travelers can shop for various stuff like traditional handicrafts, varied spices, pieces of jewelry, and whatnot.
Not only this, but it is also home to some of the finest restaurants you would find in Qatar where people can either sit indoors or help themselves to a feast at beachfront restaurants.
The history of this shopping place in Qatar is quite dramatic as back in 2003 a fire broke down and a major part of the souq was burned. While restoration work was carried out to maintain its significance and not hinder its originality, a major part of the market was destroyed.
Today it stands as a traditional; place with much of a modernized theme, but the same old essence.
Time: Saturday to Thursday: 7:30 AM to 12:30 PM & 3:30 PM to 10 PM
             Fridays: 12.30 PM to 10 PM
2) Gold Souq – Your One-Stop Place For Jewelry Shopping in Doha 
Qatar is home to some of the finest jewelry makers in the world and if you're someone who likes shopping for gold pieces of jewelry, this is a place to be at. Widely famed for its finely crafted pieces of jewelry and gems, gold is the name of the game in this market.
However, for those who prefer to shop while saving their money, the market has a whole lot of affordable items like jewelry made of white gold, platinum, or silver.
The location has an essential role in making the marketplace an attraction in Qatar for every tourist. It is nestled in Downtown Doha and is easier to reach from any corner of the city. The souq is quite a place for shoppers who require a memorable souvenir. You can buy a pendant with the name embark over.
Time: Saturday to Thursday: 9 AM to 1 PM & 4 PM to 10 PM
             Fridays: 4 PM to 10 PM
3) Doha Festival City – The Largest Mall Of Doha
Believed to be the largest mall in the country and home to hundreds of outlets, Doha Festival City is one of those must-visit places in Qatar. The mall has listed hundreds of brands and outlets, home accessories, and other fashion elements in case you're fascinated about shopping in Qatar.
The mall not only offers Shopping Opportunities but also entertainment options like a cinema and a theme park for kids to enjoy. Well, if cinema and theme park don't excite you, there's an indoor snow slide and snow mountain in the mall itself where you can head over and save yourself from the heat outdoors.
Being the largest mall in the city, there is a massive brand collection and facilities that include more than 100 restaurants, and a large parking area.
Time: Sunday to Wednesday: 10 AM to 10 PM
            Thursday to Saturday: 10 AM to Midnight
4) Pearl Qatar – A Place Where Shopping Meets Luxury
A man-made island and one of the finest examples of true luxury, Pearl Qatar stretches over four square kilometers and is home to some of the finest cafés and shopping malls in Doha. It is the first land in Qatar where foreign nationals can own freehold properties.
One can find the finest shopping brands from all around the world here. From the luxury of Versace and Aigner to multiple brands for diverse needs, shopping at Pearl Qatar is a treat.
There are luxury hotels and a serene waterfront that adds much glamor to the beauty of this man-made holiday destination in Qatar. The island, not just boasts of luxury, but it has a vibe of highly urbanized islets, offering you an exciting tour around the dazzling streets.
5) Villaggio Mall – Experience The Serene Beauty Of Venice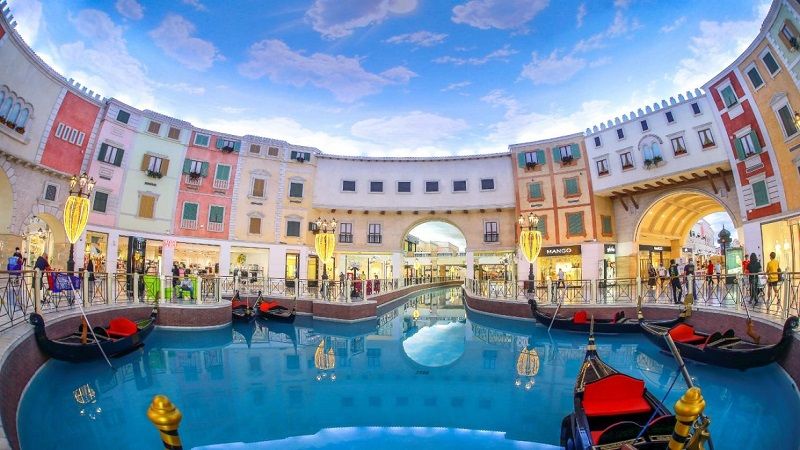 One of the finest places to go shopping in Qatar. The Villaggio Mall is a place you can't afford to miss when on a vacation in Doha. The mall boasts of its majestic architecture and top-of-the-line facilities for visitors. One can either take a gondola ride in the indoor canals of the mall or head over to the cinema or ice rink to experience true enjoyment with family.
The Villaggio Mall even has several food outlets and stalls functioning within its premises that offer the best of feasts to visitors. From the finest clothing stores to the best entertainment options, visitors get a whole lot more to enjoy at the place.
There are various entertainment options for the kids as well. There is a vast parking area that can allot more than 3300 cars, an indoor canal inspired by Venice, Gondola rides, and a dedicated fun zone with activities like Go-karting, an ice arena, and more.
Time: Sunday to Wednesday – 9 AM to 10 PM
             Thursday to Saturday – 9 AM to 11 PM (Closed on Friday)
6) Al Khor Mall – Experience Shopping At The Biggest Mall In Al Khor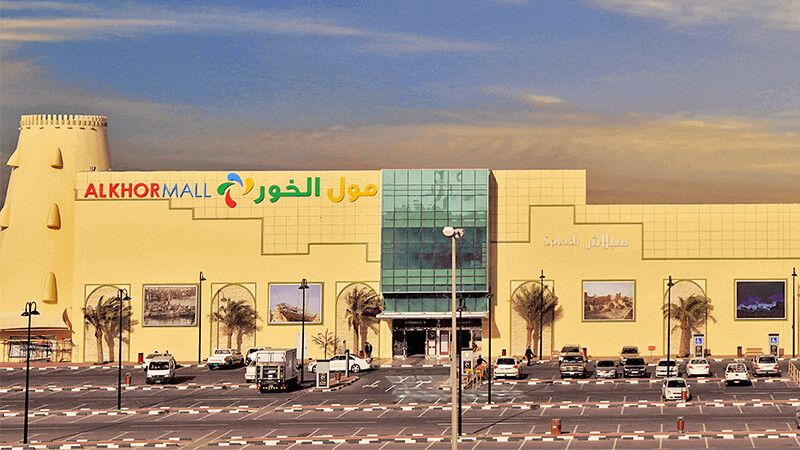 Perhaps the first mall to be built in the city, the Al Khor Mall is one of the best places to visit in Al Khor. The mall offers a wide range of global brands and budget shopping options for visitors alongside its wide range of other facilities.
From the finest dining options to the entertainment facilities that visitors can enjoy the whole day, there's something for everyone at the Al Khor Mall. It is one of the biggest malls in the country and is home to a large parking space that can accommodate up to 1000 cars.
Visitors can come here and enjoy the whole day without getting bored with the facilities.
Time: Monday to Wednesday – 10 AM to 10 PM
            Thursday to Saturday – 10 AM to 11 PM
             Sunday – 10 AM to 10 PM
7) City Centre Doha – A Haven For Budget Shoppers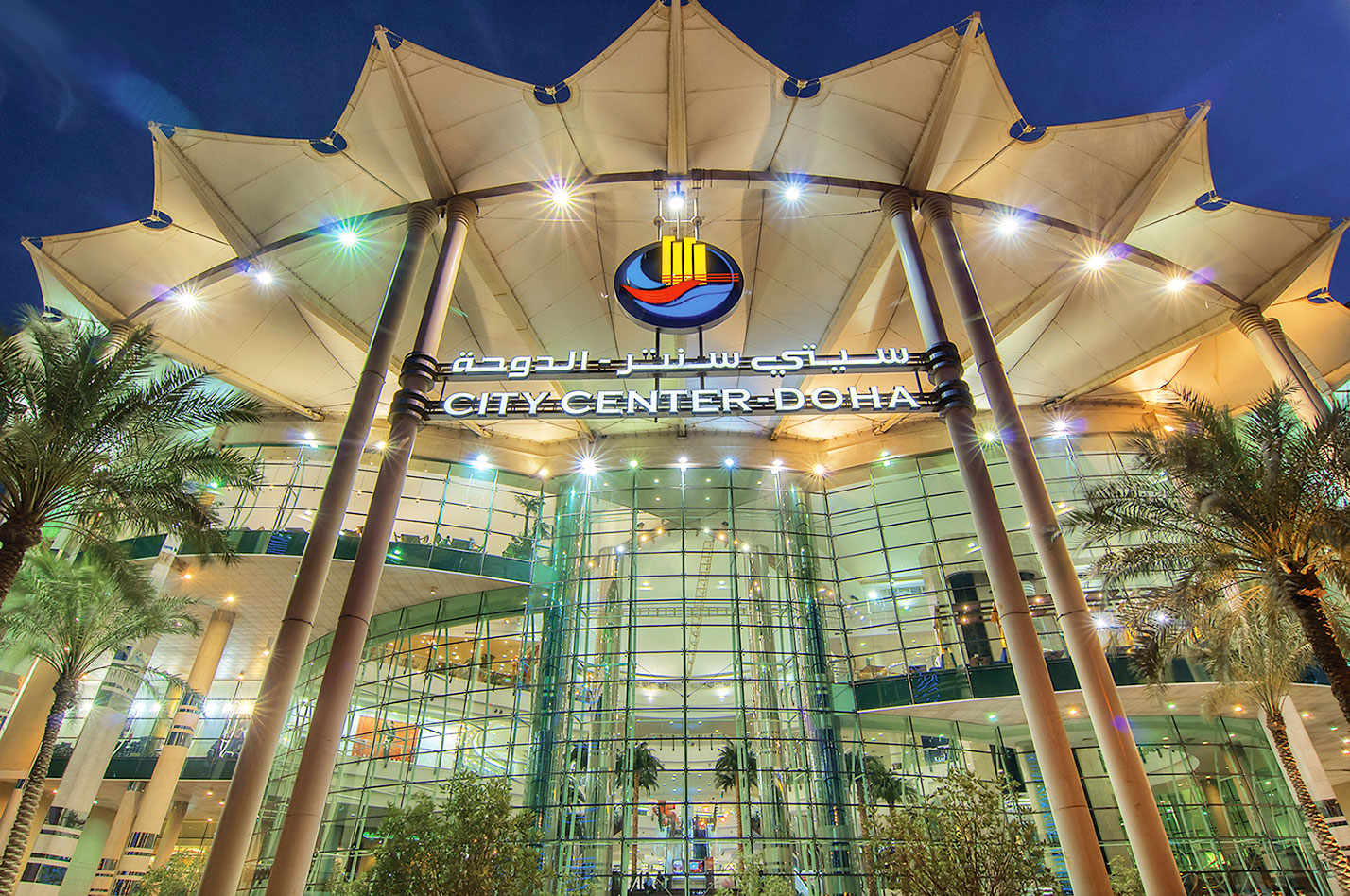 Another fine haven in case you're a budget shopper, the City Centre Mall in Doha has a total of 370 top-of-the-line outlets and is connected with 3 luxury hotels of Doha, Shangri-La Hotel, Rotana Hotel, and Merweb Hotel.
Visitors coming to the mall can find the finest options for shopping and dining. The mall features numerous clothing stores where the utmost emphasis has been laid on the budget to provide economical shopping options for visitors.
The mall also has several food stalls that serve mind-boggling food to visitors. One can visit the mall to experience the ultimate fun of shopping at this best attraction in Doha, Qatar.
Timings – Sunday to Thursday from 8 AM to 8 PM
8) Lagoona Mall – Be A Part Of The Various Events While Shopping In A Luxury Setting
Nestled in Doha's most prominent location, the Western Bay, the Lagoona Mall is another perfect shopping experience amidst luxury. Boasting its diverse facilities, the mall has more than 150 stores and over 15 restaurants that serve the best of cuisines in their most authentic taste.
Visitors coming here for shopping can find a wide range of shopping brands, from luxury shopping outlets to the best budget options for visitors. For those who are looking for some home decor items and clothes, the Lagoona Mall is the place to be. Numerous fashion and food events are held at the Lagoona Mall all around the year of which visitors can be part.
For those who are looking for some home decor items and clothes, the Lagoona Mall is the place in Qatar where you want to be. Numerous fashion and food events are held at the Lagoona Mall, all around the year, of which visitors can be part. If you're someone who longing to taste of street food of Qatar and looking for a fine dining experience, the Lagoona Mall may well be your perfect spot in Doha.
Time: Thursdays – 10 AM to 12 AM
             Fridays – 2 PM to 12 AM
             Saturday to Wednesday – 10 AM to 10 PM
9) Mall Of Qatar
Another of those top shopping places and the finest Qatar attraction, offering a fine experience of shopping in the country, the Mall of Qatar is a fine spot that ensures there are no dull days with your loved ones. The mall has a staggering 500 shops that are more than any other mall in the country.
The Mall of Qatar is considered to be the largest mall in the country with options in plenty. One can enjoy the best cinema experience at the mall. Featuring its 9-screen multiplex, this is a place that takes care of your entertainment.
Besides, the Mall of Qatar even has several additional facilities. One can opt to the shop from the comfort of home and the items get delivered to home. Likewise, the mall even has 7000 parking spaces that are perfect in every sense. One can even locate the car at the mall's parking facility by simply using the app.
Time: Sunday – Wednesday –Shops-10:00 AM – 10:00 PM
                                                             Food & Beverage-10:00 AM – 11:00 PM
            Thursday –All Retail Shops-10:00 AM – 12:00 Midnight
            Friday – Shops-10:00 AM – 11:30 AM & 1:00 PM – 12:00 Midnight
                            Food & Beverage –10:00 AM – 11:30 AM & 1:00 PM -12:00 Midnight
             Saturday –All Retail-10:00 AM – 11:00 PM
                                 Novo Cinemas-Sunday to Saturday: 12:00 PM – 2:00 AM
                                Carrefour-Sunday to Saturday: 9:00 AM – 1:00 AM
10) Souq Al Wakra
Another shopping destination, Souq Al Wakra is the most beautiful and the best shopping place for tourists in Qatar that you cannot miss. With the best restaurants and cafes around, it offers travelers the best leisure experience where they can shop and enjoy the delightful taste of authentic Qatari cuisine.
Explore the nearby attractions once you are done shopping the antiques or other handicraft accessories. Not limiting the wonders to the cultural and heritage beauty, you can admire the stunning vista of dusk and dawn. There are options like a dhow cruise and other exciting things to spend the best time.
Time: Monday to Sunday:
7 am – 10:30 am

12:30 pm – 3:30 pm
11) Place Vendome, Lusail
For luxury shopping experiences, Place Vendome in Lusail is the best-picked tourist place in Qatar you can visit. With its lavish interiors and high-class shopping brands, Place Vendome has given a new definition to shopping with its elegant style and endless option.
It is the architectural marvel that lures travelers to discover excellence in every inch. Apart from bringing every international brand under one roof, the Place Vendome offers some luxurious accommodating space, a cinema for entertainment, and fancy restaurants for family dining. Not only this, you can enjoy a great time with your family at the exclusive entertainment zone.
Time: Monday to Sunday: 24 hours