Top Best Places To Visit In Mombasa County
Mombasa is the smallest county in Kenya, covering an approximate area of 229.7 square Kilometres, with water masses covering 65 Square Kilometers.
The county is headed by Governor Abdulswamad Nassir. 
Mombasa county is a center of both local and international Tourists. It has become a spot for holiday destinations, especially Christmas.
If then you are planning to pay Mombasa County a visit below is a list of the best places and beaches you can visit.
1) Pirates Beach
It is Mombasa's engaged public beach located off the Mombasa- Malindi highway. It is actually the perfect place to visit if you are a beach lover. However, the best time to visit the beach is during the morning hours when it is less overwhelming. Some of the leisure activities to engage in at the place include; swimming, camel riding, snacking, boat riding, and beach sports like beach volleyball.
2) Nyali Beach
It is located approximately five Kilometres from Mombasa CBD, in the leafy suburbs of Nyali estate. The place is less crowded compared to other beaches such as Pirates beach, thus making it an ideal place for those who love a tranquil environment. 
It is a perfect place for swimming activities, water sports, boat riding, and sun gazing. Several beachfront hotels and lodges are located within the area.
3) Bamburi Beach
It is located approximately 10 Kilometres from Mombasa CBD. Bamburi Beach offers a real flavor of Mombasa's north coast life. 
The Beach is the perfect place to enjoy camel rides, swimming, boat rides, and water sports. It also features several beachfront hotels, lodges, and villas.
4) Mamba Village Centre
Mamba Village is located in Nyali, Mombasa County. The center features the largest crocodile farm in East Africa, boasting over 10,000 crocodiles in the farm. It is a perfect place for learning the life cycle and behaviors of different species of crocodiles.
A restaurant, which is well known for serving delicious crocodile meat is also located in the center. Other activities one can engage in at the center include horse riding, camel riding, camping, and nature walks.
5) Haller Park
It is a nature park located in Bamburi, off the Mombasa-Malindi Road. It features a game sanctuary, a palm garden, a fish farm, a reptile park, crocodile pens, and a giraffe viewing area. Different species of birds can also be found at the park. The park is suitable for game-viewing activities, bird watching, camping, and nature walks.
6) Mombasa Marina National Park and Reserve
Marina National Park and Reserve are located in the Indian Ocean off the Coast of Kenya, between the Mtwapa and Tudor creeks. The park is 10km ( 2,500 acres) and the reserve is 200km (49,400acres) and claimed to be the oldest marine park in Africa.
It is home to a variety of marine species such as; crabs, corals, turtles, starfish, seagrasses, stonefish, cucumbers sea urchins, and varieties of seabirds. It is an ideal place for diving, snorkeling, sunbathing, water skiing, and windsurfing.
7) Mombasa Old Town
Mombasa Old Town is strategically located on the southeast side of Mombasa Island. It has a reminiscence of the days when Arabs, Asians, and the Portuguese had authority over the town and its culture.
Most of the buildings in Mombasa Old Town reflect the cultures of the Arabs, Asians, and Portuguese. It is an expansive area where you can take a walk as you explore different shops that sell antiques, spices, and souvenirs.
8) Bombolulu Workshop and Cultural Centre
It is located off Malindi Road in Bombolulu and features four sheltered workshops, a restaurant, and a cultural center with eight traditional homesteads. 
Bombolulu Workshop and culture center was founded in 1969 and is managed by the Association for Physically Disabled in Kenya. The center mainly showcases the diverse Kenyan culture, from traditional dances to unique displays of jewelry, textiles, wood carvings, and crafts.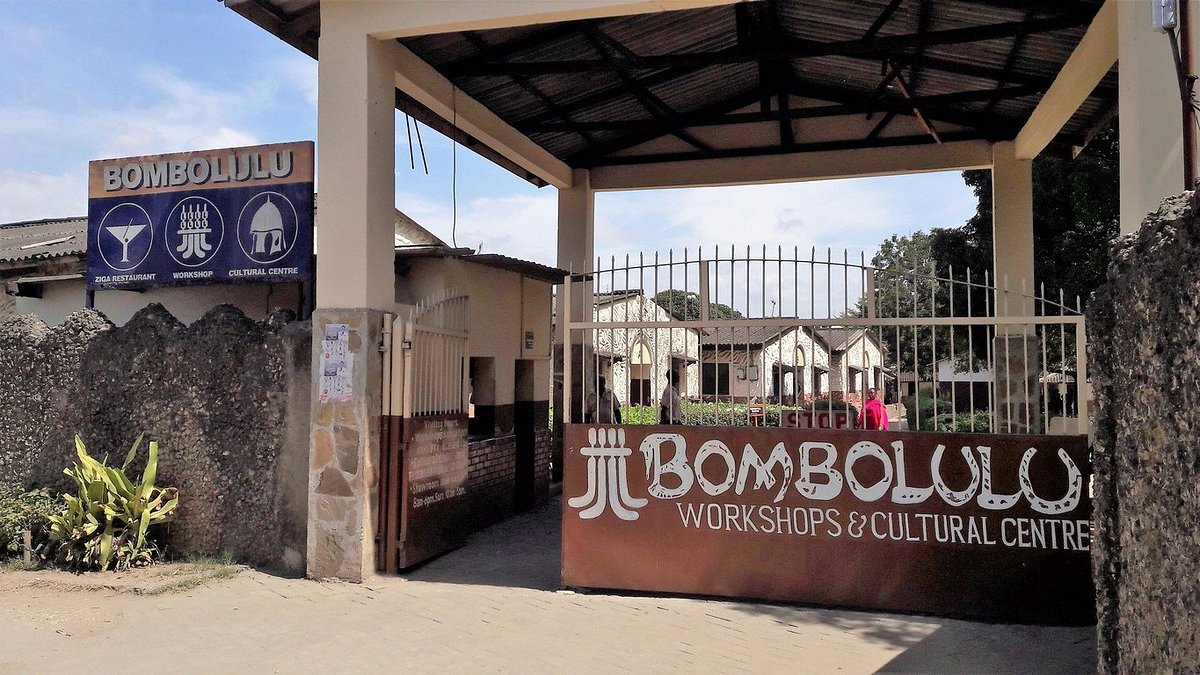 9) Nguuni Nature Sanctuary
It is located approximately four Kilometres from the Bamburi Cement Factory. It is a perfect spot for camping, game rides, game viewing, and picnicking It features lush gardens ideal for holding outdoor events.
The sanctuary is home to different bird species, giraffes, elands, waterbucks, elands, and antelopes.
10) Fort Jesus
A world heritage site built by the Portuguese between 1593 to 1596. It was declared a UNESCO world heritage site in 2011. It houses a museum that displays a collection of ceramics and pottery used by the different cultures and communities that traded along the Kenyan Coast.
There are disintegrated buildings within the fort, the notable one being the Omani house that features Omani jewelry and early Swahili cultural artifacts. The park is always open from 8:00 a.m to 6:00 p.m, from Monday to Saturday.
Read also: