Top Places For Watersports In Qatar
From the finest of adventure sports and activities to some top places to visit in Qatar. Qatar is widely popular for its watersports, art, culture, and an array of sightseeing delights. This is a country that knows no boundaries and continues to deliver the finest services to its visitors all-round the year.
There are not many travelers in the world who dislike watersports, and when it comes to Qatar, the country is right up there with the very best in terms of offering watersports to travelers. 
Apart from its traditional games like camel racing, this is one feature of the country that has grown in popularity tremendously over the years. As the natives believe it, watersports are steadily becoming the way of life in Qatar and continue to grow in fame.
Below is a list of some popular water sports attractions in the country:
1) Sealine Beach: Your One-Stop Destination For Kitesurfing In Qatar
Many local agencies in Qatar offer reasonable Kitesurfing activities. But if we are to pick the best one, then the one at Sealine Beach comes out on top. One of the most picturesque beaches in the country, Sealine Beach is a perfect spot to enjoy activities like Kitesurfing in Qatar. With a price range of QR 700 per person to QR 900 per person in a group of three depending on the days, this is one attraction that is worth a try.
This beach attraction in Qatar is a delight. With its deep blue waters and soft sandy shores, the beach offers stunning views of the sunset. Witness the most unique experience of admiring nature and feeling the adrenaline going down your spine.
Location: Sealine Beach Rd, Mesaieed Qatar
Timings: Open 24 Hours
Facilities:
ATV

Swimming

Watersports – Jetski, kitesurfing

Dune Bashing/Desert Safari

Barbeque
2) Banana Island: The Hub For Banana Boating In Qatar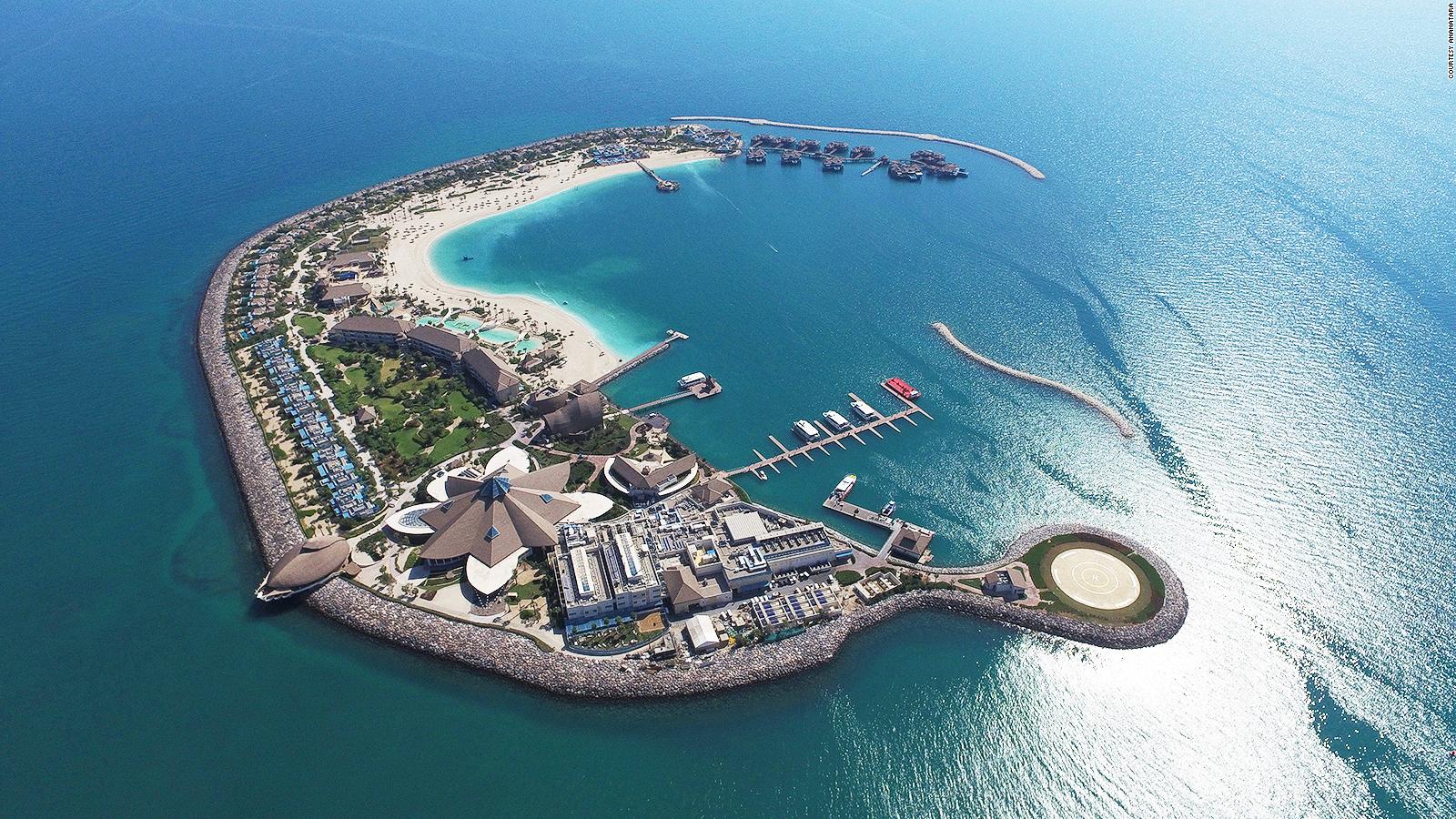 Now here's a thing, if you're in Qatar and wondering about the best place to experience Banana Boating in the country then Banana Island is the place for you. An artificial island nestled just off the coast of the capital city of Doha, it is one of the best places to visit in Qatar with family and offers tranquility and watersports at its very best. Speaking of Banana Boating, it is an activity that is widely recognized all over the world and perfect for family fun. The activity features some of the most attractive watersports in Qatar and is offered at the Banana Island just 24 kilometers from the heart of Doha. One can think of Banana Boating as a must-try activity in Qatar on a vacation with family or friends.
The secluded beauty of the island also offers the luxury and comfort of living at a luxury hotel. Overlooking the calm waters of the sea, this is an abode for holidaymakers.
Location: Doha, Qatar
Timings: Open 24 Hours
Facilities:
Restaurants

Watersports

day trips

staycations
3) Katara Beach: The Heaven For Parasailing
One of the best places to visit in Doha, Katara Beach is amongst the very few public beaches in Qatar that offer nothing less than sheer excitement and fun. The beach is set in a picturesque location and is a major tourist attraction in Doha. Besides, speaking of the watersports it offers, Parasailing is right up there with the very best activities here.
Even if you're one of those who don't like to parasail, missing out on visiting Katara beach is out of the question. Widely famed in the country, Katara either offers a relaxing time at the beach or some adrenaline thrills of watersports in Qatar like Parasailing. Katara either offers a relaxing time at the beach or some adrenaline thrills of watersports in Qatar like banana boat rides, surfing, and more.
Location: Shakespeare Street, Doha, Qatar
Timings: 9:30 am to 5 pm
Facilities:
Watersports

Restaurants

Rides

Parking
4) Al Thakira: Experience Kayaking At Its Very Best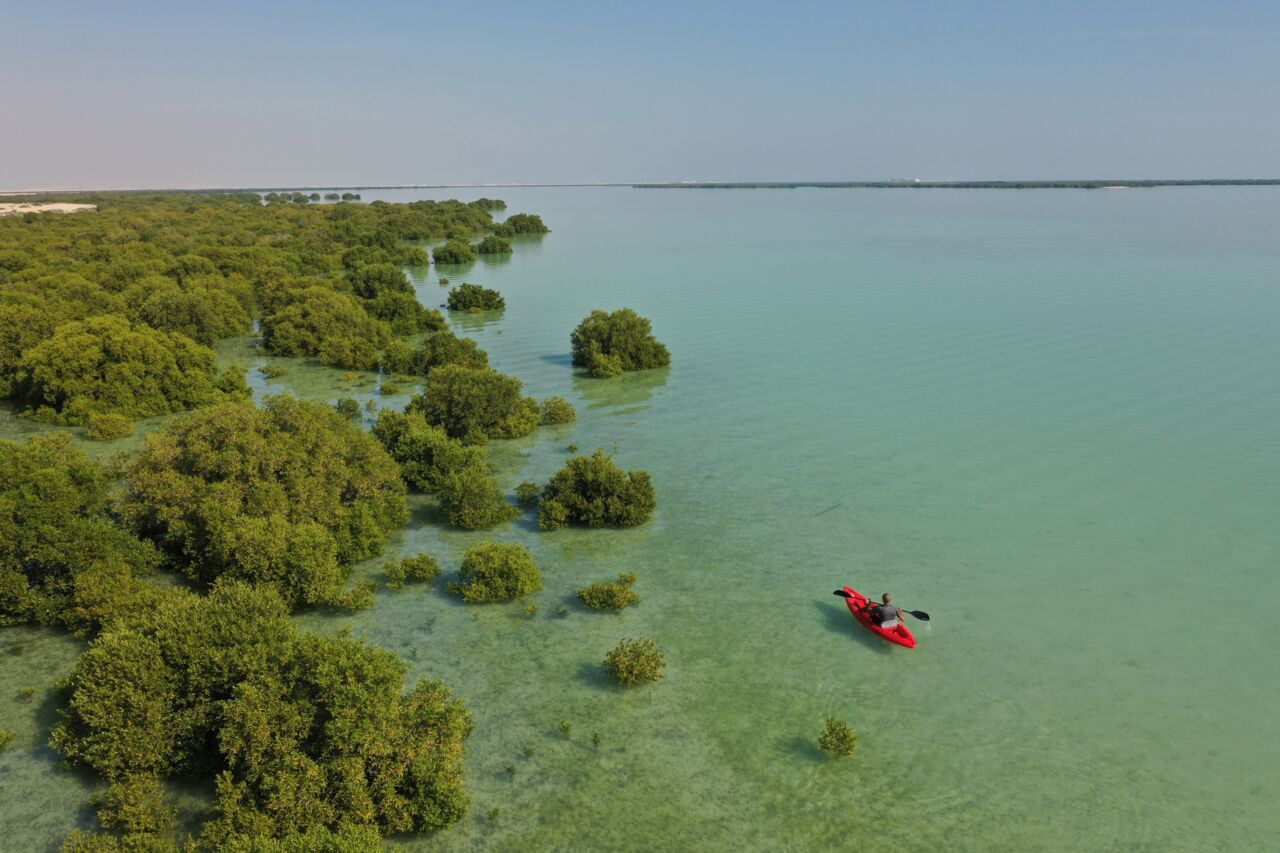 n Fact, the Al Thakira Natural Reserve is the largest mangrove nature reserve in the country. Widely visited by adventure lovers in Qatar, Al Thakira's natural scenic views speak for themselves as you enjoy Kayaking through the mangroves here.
Migratory birds can be spotted during the winter that has flown far miles from Africa and other neighboring countries. Al Thakira Beach also provides space for swimming or sunbathing to spend the whole day at leisure.
Location: Al Khor, Qatar
Timings: Open 24 Hours (for the beach)
Facilities:
Restaurant

Barbeque

Camping

Watersport – Kayaking
5) Doha Corniche: A Place To Experience Jet Skiing & Sunset In Doha
Nestled along the Doha bay and stretching over a distance of seven kilometers, the Doha Corniche is one of the finest places to visit in Qatar in case you're headed for Doha sightseeing. It is a waterfront promenade that welcomes visitors all around the year and offers several attractions like sunset views and Dhow cruise tours that are a real treat for the visitors. While annual celebrations like Qatar National Day and National Sports Day take place at the Doha Corniche, the Jet-skiing experience is something of a treat in the area. One can rent a jet ski at nominal prices and explore the city's gorgeous skyline right from the waters. Nothing beats the sight of the amazing skyscrapers and the Doha Corniche from the blue calm waters of Qatar.
Location: Doha, Qatar
Timings: Open 24 Hours
Facilities:
Restaurants

Cafés

Bikers track

Jet skiing

Dhow Cruise Tours
6) Umm Bab Beach
Not the best beach for some extreme water adventure, but Umm Bab beach in Al Shahaniya is surely one of the best tourist places in Qatar for beach leisure. Taking a break from the scorching heat of the desert, Umm Bab beach is an ideal escape to stroll around the soft sand, admire the aquamarine hues, and get indulged in every activity you can do.
Known as the best beaches in Al Shahaniya, Umm Bab is a place to swim in the soothing waves and spend a night camping along the shores. Facilities like fenced areas, restrooms, and beach sports are available to make your visit a pleasurable time.
Location: Al Shahaniya
Timings: 24X7
Facilities:
Kids Playground

Fenced area

Restrooms
7) Al Wakra Beach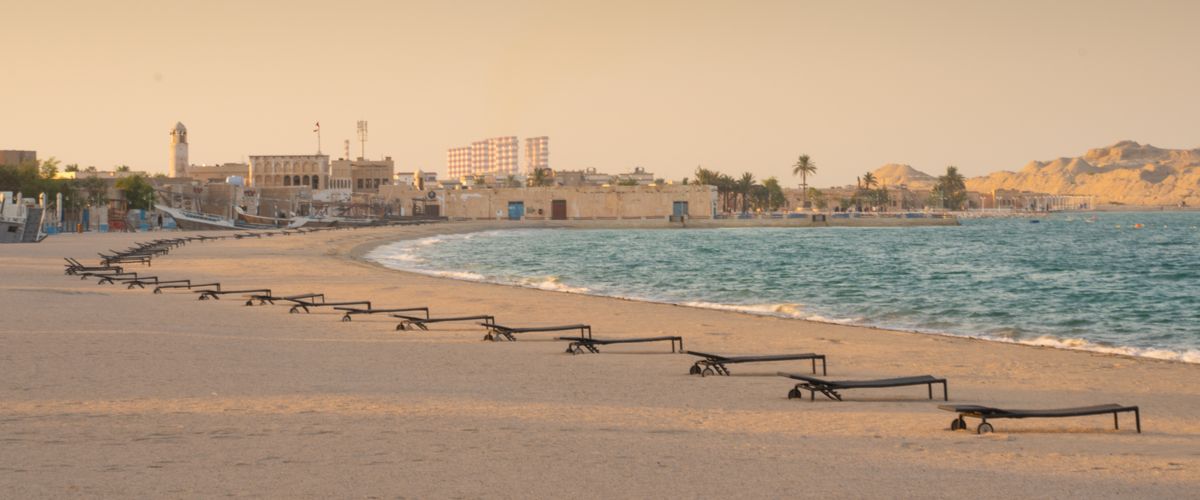 Al Wakra Beach offers travelers, some of the best things to do in Wakra, Qatar. This beach, nestled along with the vintage and vibrant setting of Souq Al Wakra, is a hidden gem where you can try your hands on some best water adventures.
The blue shores with palm trees and the tranquil settings are laced with facilities like a play area for kids, swings, and other thrilling rides. Moreover, you can enjoy activities like Kayaking, canoeing or swimming, with games like football or volleyball. Offering a plethora of fun and adventure, the beach is open to all where they are free to spend the entire day admiring one of the best places to visit in Qatar.
Location: Al Wakra
Timings: 24X7
Facilities:
Kids Playground

Rides and games for Kids

Football pitch

Volleyball net

Water Adventures
8) Zekreet Beach: For Secluded Beauty And Thrill
Not as famous as other exciting beaches, but Zekreet beach is surely the best place to visit in Qatar. Located at a distance of a few miles from Zekreet Fort, the beach is an ideal escape for spending a day in peace and trying new water adventures. Being away from human interference, the beach has always amazed tourists with its calm and unwinding beauty.
Zekreet Beach sits on the west coast of Dukkan and is recognized as an offbeat place by tourists. This is the right place to admire the serene and tranquil vibes of the Gulf of Zekreet. When it comes to adventure, reaching the beach is itself a thrill. One has to ride a 4×4 vehicle and go off-roading to reach this attraction in Qatar. Other activities to try here are windsurfing and camping. While there isn't much to do on this Qatar beach, the remote beauty and tranquil atmosphere make it a great site for overnight camping. Because there are no facilities around Zekreet, make sure you have enough amenities and supplies.
Location: Dukhan city, towards the western coast of Qatar
Timings: 24X7
Facilities: No facilities are there at the beach. You must carry all the needed amenities along.
9) Fuwairit Beach: Your Perfect Beach For Leisure and adventure
Beauty and thrill are something that one cannot miss, Fuwairit beach is one of the best spots for tourists in Qatar, where you can enjoy beach leisure and adventure at the same time. The beach is a clean white shore with azure waves, making it the ideal photogenic spot with the picture-perfect setting. It is located in the northeast of Qatar in the Al Ghariya municipality.
The best site to see turtles laying eggs, Fuwairit Beach is the place where you can see baby turtles crawling by the shore. These creatures are born on the beach, and later, they return to lay eggs on the beach after 30 years. The cycle has been going on for years. Make sure you have an eye to watch out for the safety of these turtles at this attraction in Qatar.
The ideal atmosphere is perfect for the tourist to spend an entire day away and take a break from the hustle. When it comes to adventure, one can enjoy swimming, surfing, and other activities available there. And for more fun, you can camp along the shores to spend a full day with thrill and excitement.
Location: Al Ghariyah, Qatar
Timings: 9 am –6 pm
Facilities: No facilities are there at the beach. You must carry all the needed amenities along.
10) Simaisma Beach- A Family Spot For Your Leisure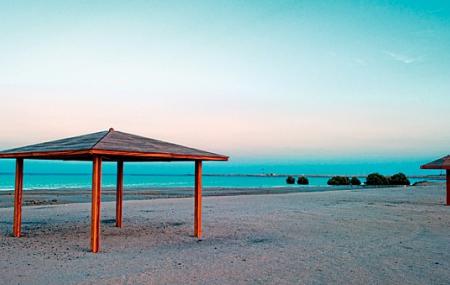 Simaisma is the best family spot for every local and tourist. This is the most visited place in Qatar where one can enjoy water adventure and beach leisure at the same time. Defined by the secluded beauty resting a few miles away from the famous Simaisma beach resort, the beach promises a day of fun and thrill.
Simaisma is nothing like any particular beach, but it has a wild beauty that attracts beach lovers. There are mangrove clusters, glittering golden sand, and clean coast, where families can spend a leisurely day. When it comes to adventure and activities, this is one of Qatar's safest beaches, where you may swim or play beach volleyball or beach soccer. The entire area is fenced-in, making it a safe environment for children.
For fun, the beach has games for kids and activities like swimming and surfing. You can even plan a family picnic while admiring the beauty around you. Facilities like a washroom and changing rooms are also there, but with very limited access.
Location: Al Khor, Qatar
Timings: 24 hours
Facilities:
Restrooms

Showers

Parking

Playing area

Volleyball area